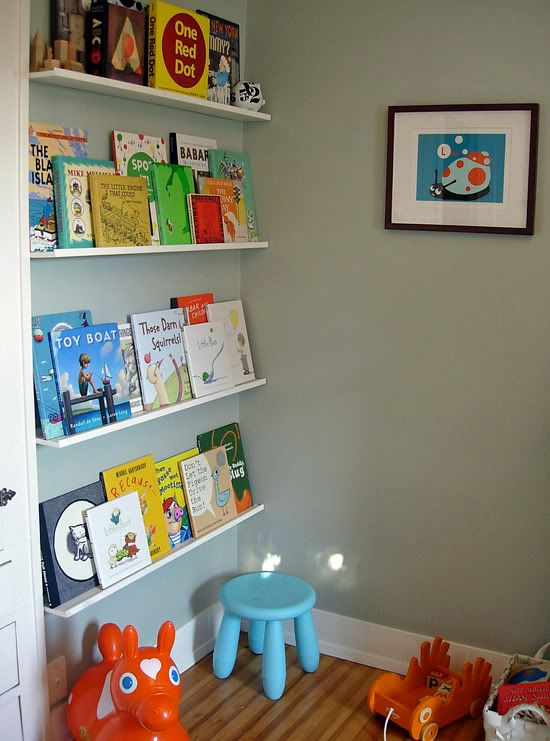 'Books as art' and easy access for son Sayer was what mum,
Kristin
, had in mind when she set up her collection of children's books on Ikea shelves.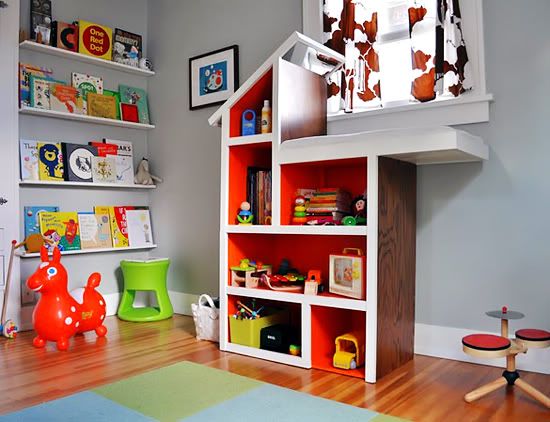 An orange
Rody
stands guard near the magnificent handmade doll house/bookshelf/change table that has now been owned by two generations.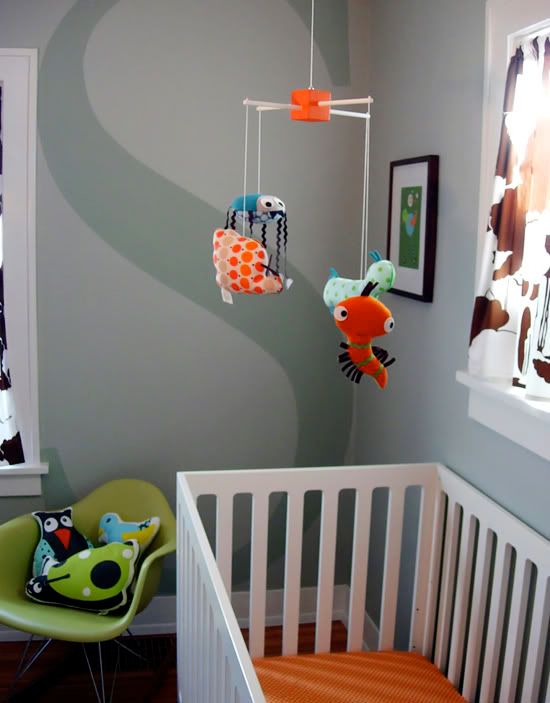 vibe
Children's library meets preschool activity corner.
who lives here?
Sayer, 2.5 in Mount Vernon, Washington, USA.
decor
Kristin purchased the simple book ledges and the little blue plastic stool from Ikea. The wall prints and most of the plush toys are her creations from
klt:works
. The little orange cart is made by
P'kolino
and the little piano is made by
Schoenhut
.
materials
The walls are painted in
Silver Sage from Restoration Hardware
and Kristin's husband painted the giant letter S by hand in a darker shade of Silver Sage that he mixed himself. The floor rug is made from a combo of floor tiles from
Flor
.
furniture
The cot is a Classic Oeuf in walnut from
tottini
in Seattle. Kristin has also purchased the conversion kit that turns it into a toddler bed from
fawn&forest
. The Eames rocker by the cot was a surprise gift to Kristin from her husband (a very welcome one as her fave designers are Ray and Charles Eames).
Sayer in his baby days with the Flights of Fancy mobile.
diy
As Kristin and her husband are both talented artists on a budget, they have made or revamped most of their old home themselves. The curtains are handmade with an Alexander Henry fabric called The Grove, while the mobiles are Crawling Critters and Flights of Fancy pieces that Kristin made with Sayer in mind. The magnificent doll house was made for Kristin when she was a child by her own father - her husband has painstakingly restored it into a bookshelf/change table and added dark walnut wood to match the cot and the print frames, extended the balcony and put a mirror under the overhang so Sayer can see himself.
Here
is a photo of what it looked like when Kristin was a child.
best buys
All the many things they made themselves: the bookshelf/change table, book nook, the mobiles, the prints, plush toys and curtains! Kristin also trades her products for items and goes directly to companies to source products she's after. She also looks out for sales with seconds or discontinued stock.
baby space fave
The book nook. Book nerds need look no further for the perfect reading corner.
The

Baby Space

toddler
took one look at it and announced, "I want to sit on that stool with the books!"
top tips
"I really like a neutral colour on the wall so that the colours in the things in the room really shine through. I also like the idea of designing a room that can grow with a child. I don't think we really thought in terms of a "nursery," but rather a room that Sayer would enjoy; one that gives him interesting things to look at. I think it's important to have the room reflect the interests of the parents too. I like that there are things we made, things that were ours as children, and things that are handmade by friends. It is a room that is fun to be in and that was made with a lot of care and love. I think it's important to try and think of what you liked as a child when designing a room for a baby."
Kristin's products can be found at
klt:works
and
fawn&forest
.